Metaphorming the NanoWorld: Envisioning Solutions To Global Challenges
Thinking SMALL is the new big thing, in exploring human/nature's creative potential. This exhibition looks at what nature makes and what we make of nature. It points to the big picture of how nature connects everything it creates on all scales: from the smallest nature-made structures (nucleons) and the smallest human-made functional structures (nanons, 1 – 100 nanometers, which are billionths of a meter) to the largest structures in the universe. They also consider the even larger imaginary structures generated by the billions of neurons that make up the brain's creative engine. After all, that personal engine of innovation enables us all to see, think, discover, understand, and wonder about these natural connections. Siler's art highlights the human brain's handiwork in everything it creates, connecting it all back to nature's inventions.
In 2011, Geoffrey Ozin co-founded ArtNano Innovations with Todd Siler. Using multimedia artworks and aesthetic experiences, they aim to explore the possibilities of nature-inspired innovations in nanoscience and nantechnology that can benefit humankind by meeting our global challenges. This project considers new ways of synthesizing and responsibly applying nanomaterials. It also critiques the significant impact these developments are having on the built and natural environment—and on humanity—taking into account the "materials to nanomaterials" paradigm shift that's underway today.

NanoScale – Think Billionths of a Meter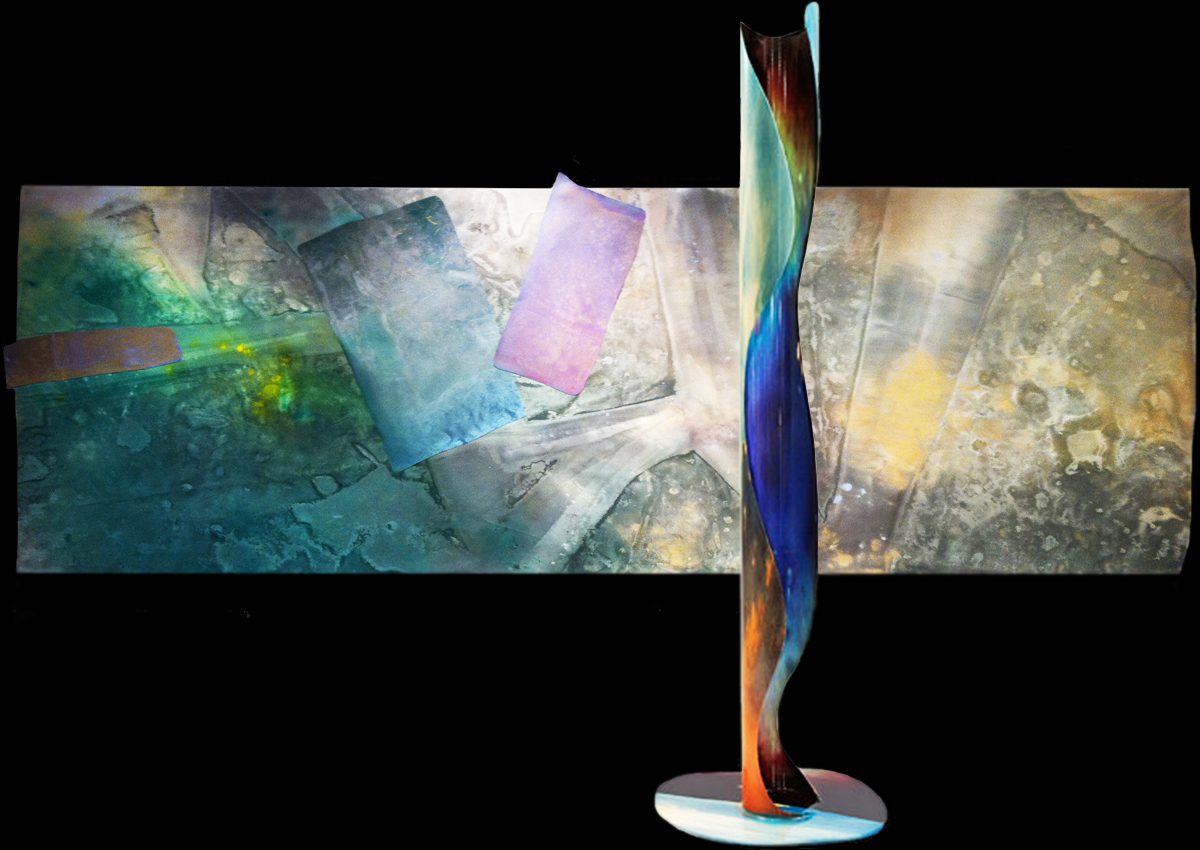 One nanometer (nm) is one billionth, or 10-9 of a meter. According to the National Nanotechnology Initiative in the US, nanomaterials fall in the size range from 1 to 100 nm. By comparison, the diameter of a hydrogen atom, which is the smallest atom in The Periodic Table of The Elements, is one tenth of a nanometer; the width of a DNA double-helix is approximately 2 nm; and the length of common bacteria is around 200 nm. It is in the 1 to 100 nm domain that the chemical and physical behavior of materials show size and shape tunable properties which are distinct to those below and above this scale. It is this unique feature which provides an infinity of nanomaterials and a cornucopia of opportunities in advanced materials and biomedical technologies.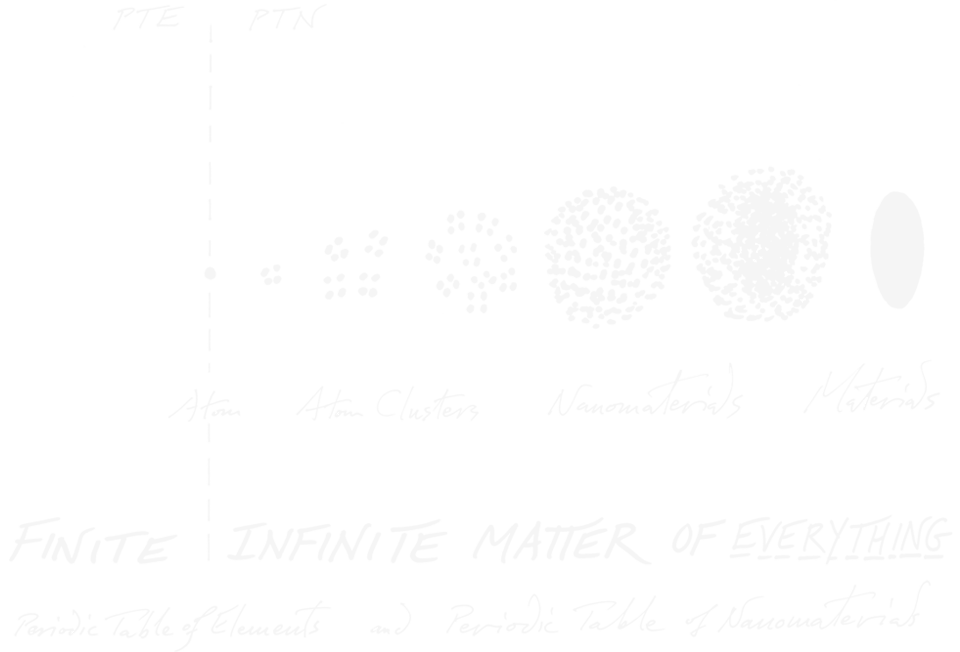 "Nature invents. Humanature innovates."
-Todd Siler
"Nature did it First. Nature has solved the problem of designing and synthesizing materials with structures that have been optimized to make them hard, tough and strong enough to house, protect and brace living organisms. Optimization of these properties, refined by slow evolutionary engineering, serves to enhance the chances of survival."
-Geoffrey Ozin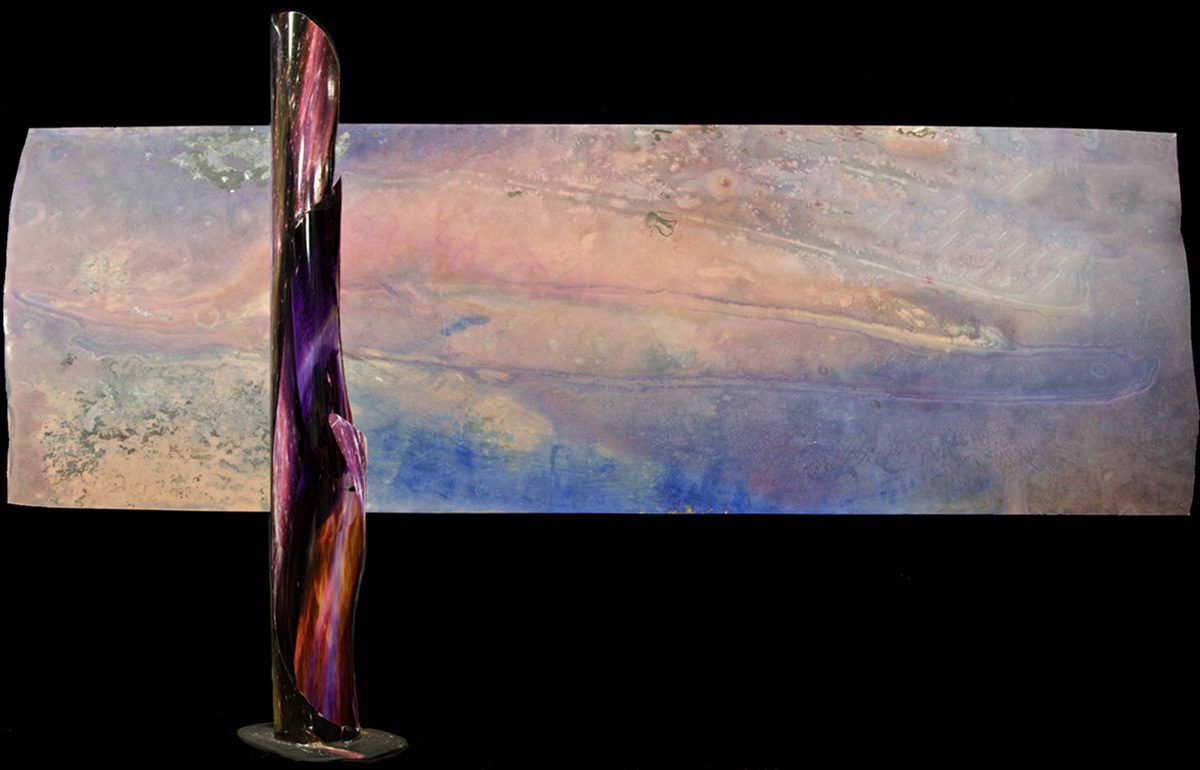 A.R.T. in Focus
(All Representations of Thought)
Metaphorming the Nanomaterials Genome

Title: "Evolving Sense of Beauty, Synthesizing Nature's Nanotubes from the Nanoscale (100nm) to the Panoscopic Scale (1,000m)"
Dimensions: 85 x 23 x 24 inches (2,159,000,000 nm x 584,200,000 nm x 609,600,000 nm)
Medium: mixed media with photo-metaphorms baked on cut and welded aluminum plate
Concept:
Imagine how nature constructs such massive structures as "The Painted Wall", a 3,000ft. high geological phenomena that's part of Black Canyon in Gunnison, Colorado, created from mountains of various natural nanomaterials in a process called Morphogenesis. This freestanding 
Photosculpture
 presents a visual supposition about the ways in which nature produces nanomaterials involving Morphogenesis.
Thinking of nanoscale phenomena on a macroscopic scale is similar to thinking of things like a nano rod "as if it were a meter-long," as nanochemists would say. To paraphrase Geoffrey Ozin et al.: "It's usually easier to try and predict how it [the nanorod] is going to behave." That thought directly relates to Photosculpture shown here. This sculpture greatly magnifies phenomena as tiny as a "string" in String Theory. Enlarging these infinitesimal structures helps me visualize what the possible contents of any given segment of a string could be. Never mind that a string is a concept that mathematical theoretical physicists claim we cannot see by any means other than mathematically. Simply put: it's truly invisible. And yet, we can see it by means of Art and Math. Both enable us to envision the reality of something that's present but virtually impossible to see.
Metaphorming the Nanomaterials Genome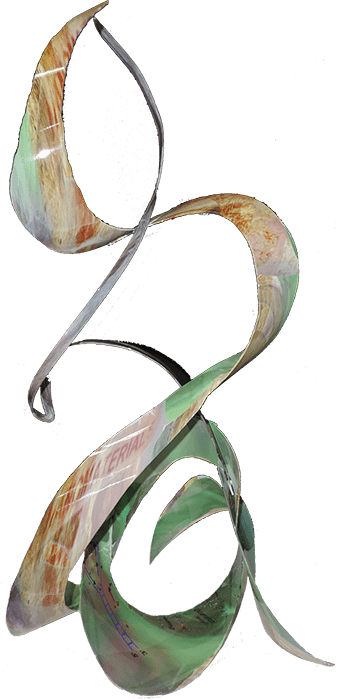 Title

: 

"Metaphorming the Nanomaterials Genome"
Dimensions

: 

39 x 18 x 20 inches (990,600,000 nm x 457,200,000 nm x 508,000,000 nm)
Medium:
mixed media with photo-metaphorms baked on cut and welded aluminum plate
Concept

: 

At first glance, this speculative sculpture resembles a strand of DNA (which is approximately 2 nm wide). A closer view reveals how this metaphorm connects the molecular biology of the human genome with the nature of nanomaterials. Nanomaterials are currently being applied to a wide range of essential technological innovations, including energy systems (solar cells, fuel cells, batteries), bioengineering systems, advanced medicines designed to fight cancers, as well as devices for improving global climate control.
In "Metaphorming the Nanomaterials Genome," this macroscopic sculpture of nanoscopic phenomena give form to six nano-concepts (size, shape, surface, self-assembly, degree of imperfection, and utility). These concepts are used to sculpt nanomaterials in real life. I make them larger-than-life, to see the directed process of self-assembling nanomaterials. Also, I connect this process of self-assembly to the related, yet different, dynamic self-assembly of neurons, genes and other biological matter. The art suggests that neuroplasticity reflects nanoplasticity, which, in turn, reflects nature's plasticity. Meaning, nature's ability to shape and mold—or be shaped and molded—into new and purposeful things. In Biology, plasticity refers to an organism's ability to adapt to its changing environments.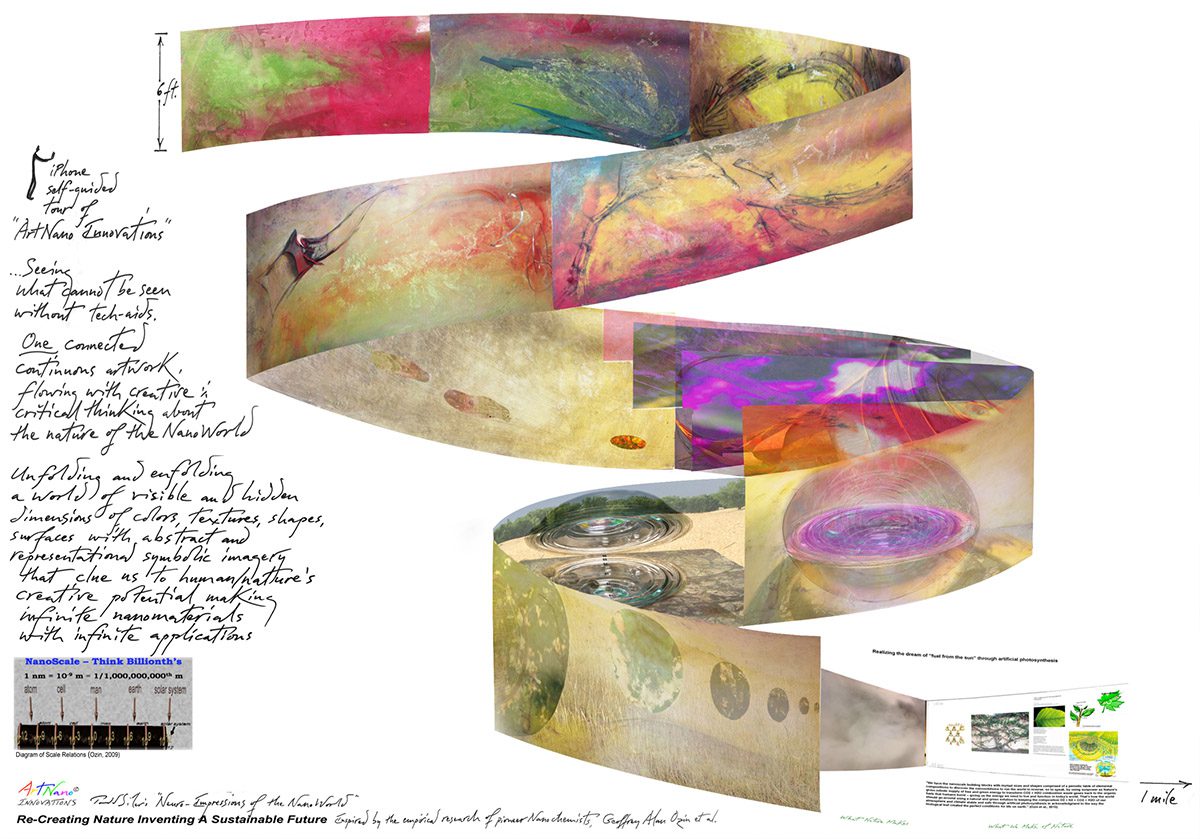 "Metaphorming Nature" is a multi-part artwork, composed of 360 interrelated paintings. Each painting explores a promising innovation in nanoscience and nanotechnology, such Ozin's Team of nanoscientists at the University of Toronto. Their plan for artificial photosynthesis offers a clean, renewable energy system.
This work of art can be configured in both linear and nonlinear ways—creating novel narratives with each configuration that may spark innovative thinking.
When completed, "Metaphorming Nature" will measure 6ft. x 5,280ft. (or 1 mile) and can be seen without any technological aids other than a pair of comfortable walking shoes! It will also be viewable through a scanning electron microscope, since the nanoscopic dimensions of this massive artwork will measure 1,828,800,000 nm x 1,609,344,000,000 nm. That's about the size of a large particle of dust in Marcel Duchamp and Man Ray's photomontage, "Breeding Dust" (1920), a Dadaist artwork that's part of Duchamp's portable art exhibition, "Box in a Valise."
Overall, th is work of art explores the creative process underlying the evolution of nano-concepts that are currently applied in producing nanomaterials.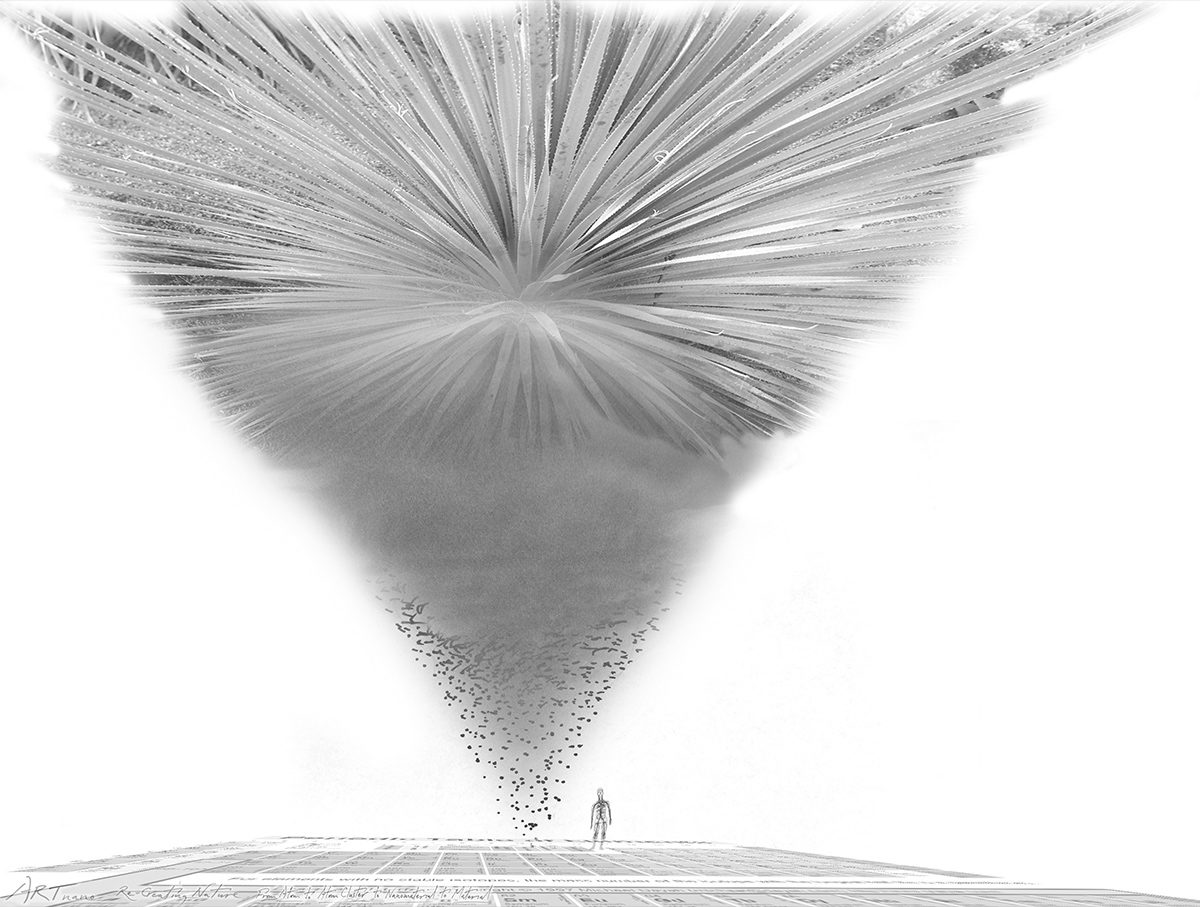 NanoWorld at 10 meters
This image would fill the wall of a 10 story building! Imagine experiencing this from both a bottom-up and top-down perspective, as implied by the human figure who's standing front and center on a nanocrystal that's been enlarged trillions of times.
Drawing insights and inspirations from nature, these artworks reflect on and envision the innumerable ways nature purposefully creates things, and connects everything it creates on all scales. ArtNano Innovations presents our parallax views and quest to explore these unsolved mysteries of the natural world.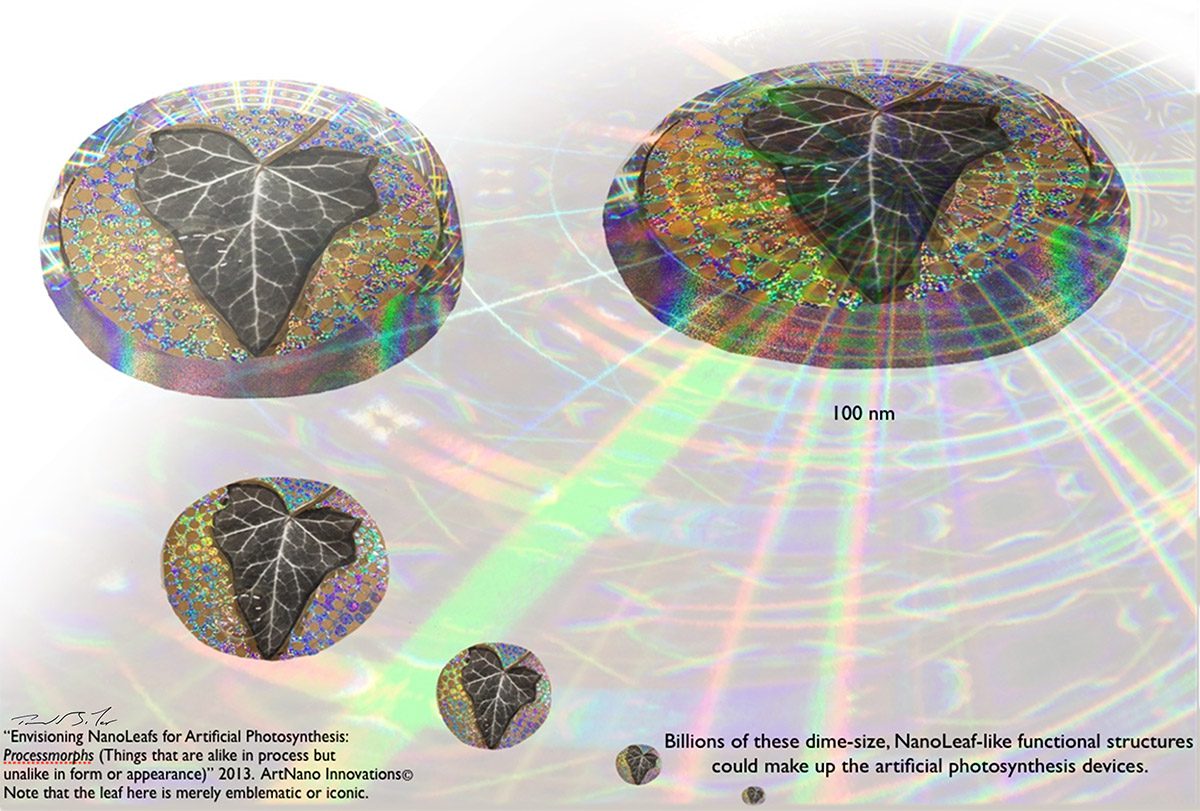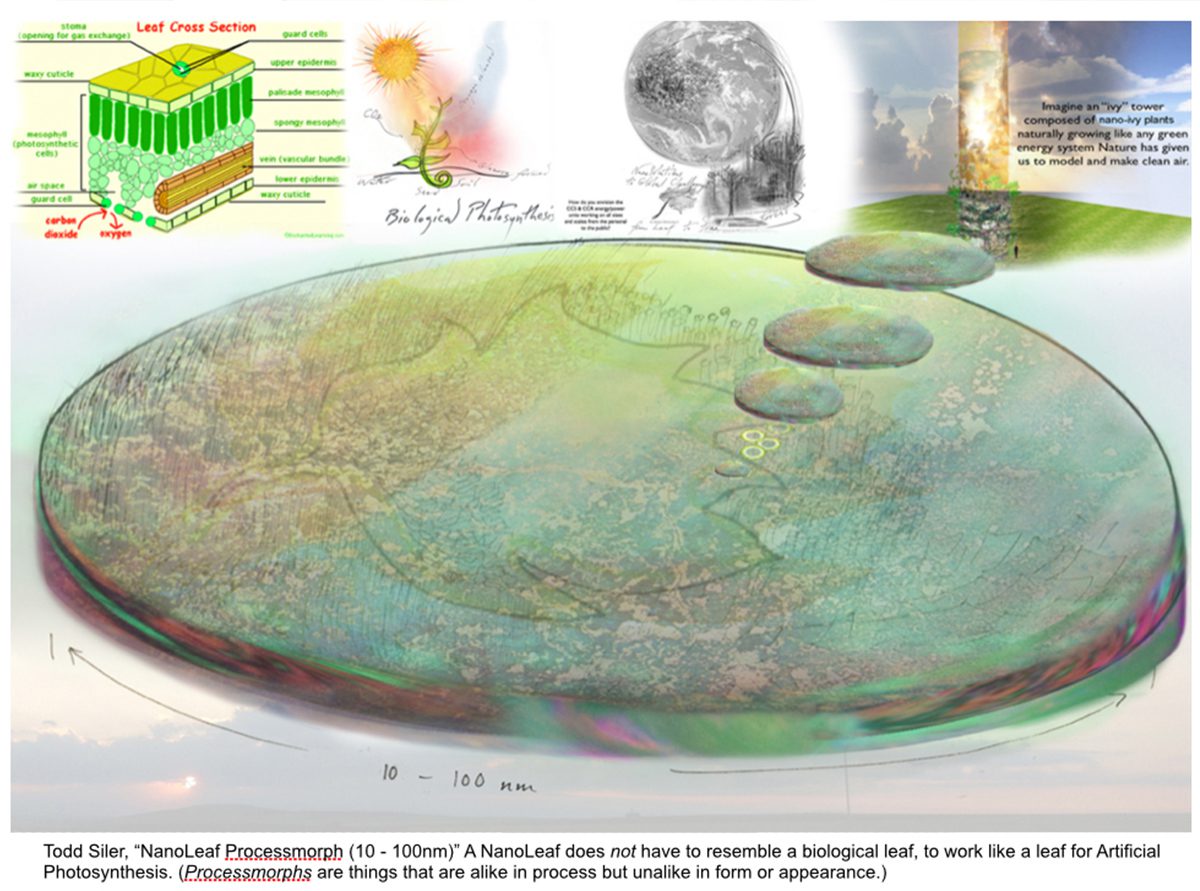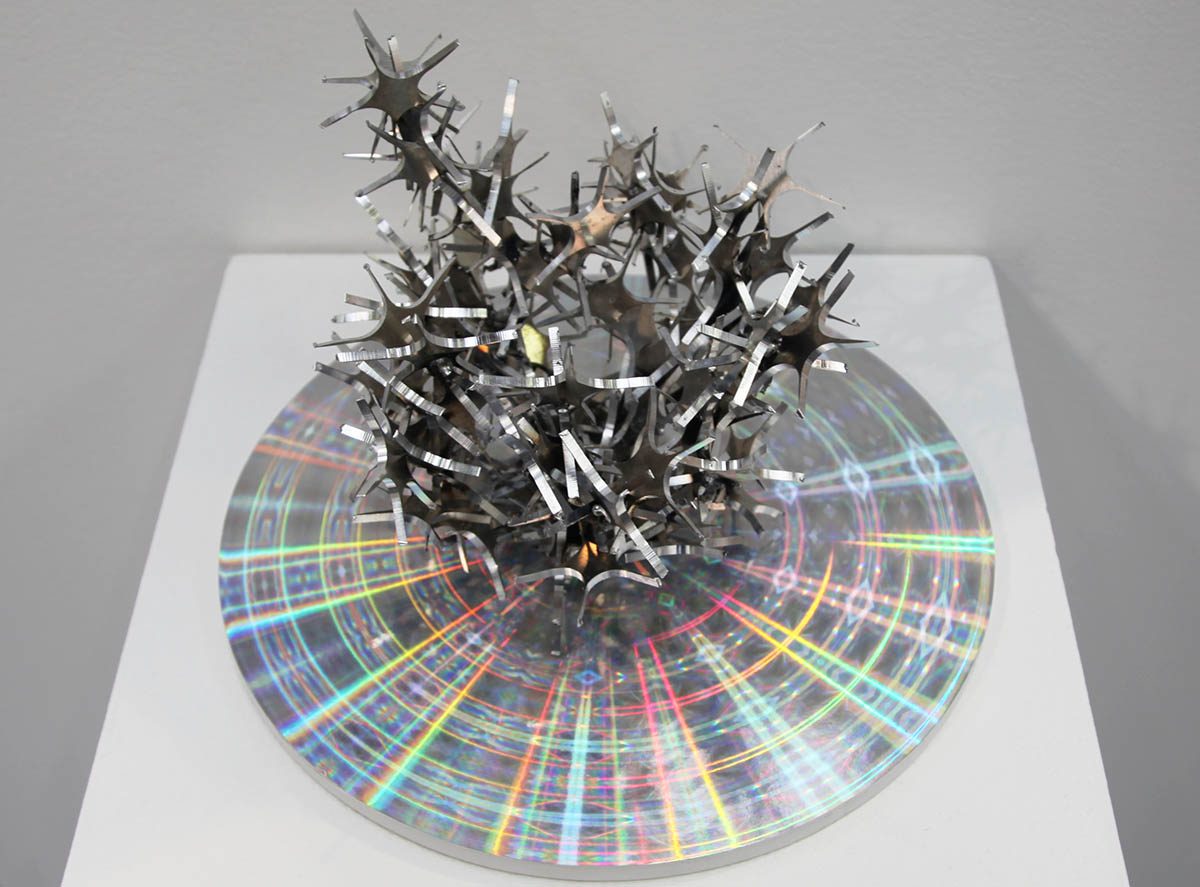 "Metaphorming NanoCrystals" (2013-14) Mixed media, 12 in. x 18 inches diameter
Meyer & Renee Luskin Conference Center at UCLA
Gifts of Edwin and Barbara Prober
Metaphorming Four Building Blocks of the NanoWorld (1 to 100 nm)
Metaphorming Nature's NanoWorld (1 to 100 nm)
Envisioning Minds & Nature Forming Nanomaterials (1 to 100 nm) That Form All Materials
Metaphorming The Domino Effect in NanoWorld (1 to 100 nm)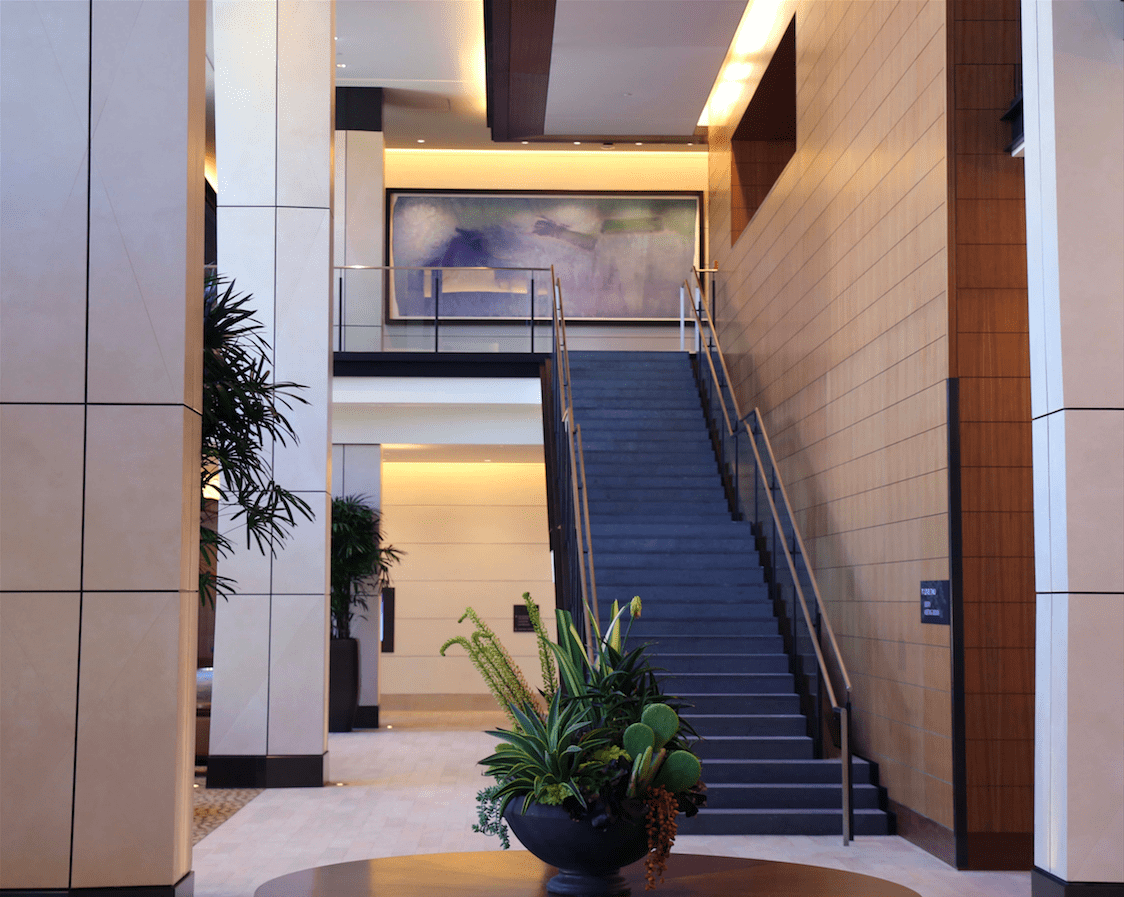 Over the past four decades, I've adventured in the frontiers of aesthetics that combine Art and Science—integrating their methods of creative inquiry and discovery—with this expressed purpose: To explore the process of ArtScience, which connects virtually all areas of human endeavor, cultivating creativity by stimulating innovative thinking in all its myriad forms, functions and expressions.
For me, Art is not only what we make; it's also what we make of it. Art encompasses All Representations of Thought: from the poetic gestures of dancers to the symbolic models of chemists; from napkin sketches to rigorous proofs in pure math; from "Ahas!" we utter when breakthroughs occur to technological marvels we create when we collaboratively harness our creative genius; from our intangible reflections on life to our tangible responses to all the phenomenal things nature shares with us every moment of every day—deepening our appreciation for the world around us and within us.
Art mirrors life. Life mirrors art. Science enables us to see how this mirror reflects and informs our sense of reality in the mind in every way imaginable.
Through art we understand science. Through science we understand nature. Through nature we understand how we can create what we envision.
My work explores the creative potential of human beings and nature alike. Each work of art poses three premises: The brain is what the brain creates; its workings reflect the workings of all its creations; to understand how our creations come to be, we need to further explore how our minds work in relation to nature.
These metaphorical artworks aim to inspire us to see the brain's handiwork in all its creations. The neural-like textures and colors in these paintings represent networks of neurons involved in generating ideas, stimulating intuitions and testing theories about the nature of creativity. They interpret nature as one interconnected creative process that links everything in indescribable ways with countless purposes.
The impressionistic paintings and symbolic sculptures interpret the actions of our minds, which use many ways and means to connect everything through innovative thinking; that is, creating new meanings and purposes for all things.
Like every symbol-making creature, I use an all-purpose creative process to connect and transform all information (data, knowledge, ideas, wisdom, experiences) in personally meaningful and useful ways. I call this universal process of creative and critical thinking "Metaphorming."
Metaphorming Four Building Blocks of the NanoWorld (1 to 100 nm)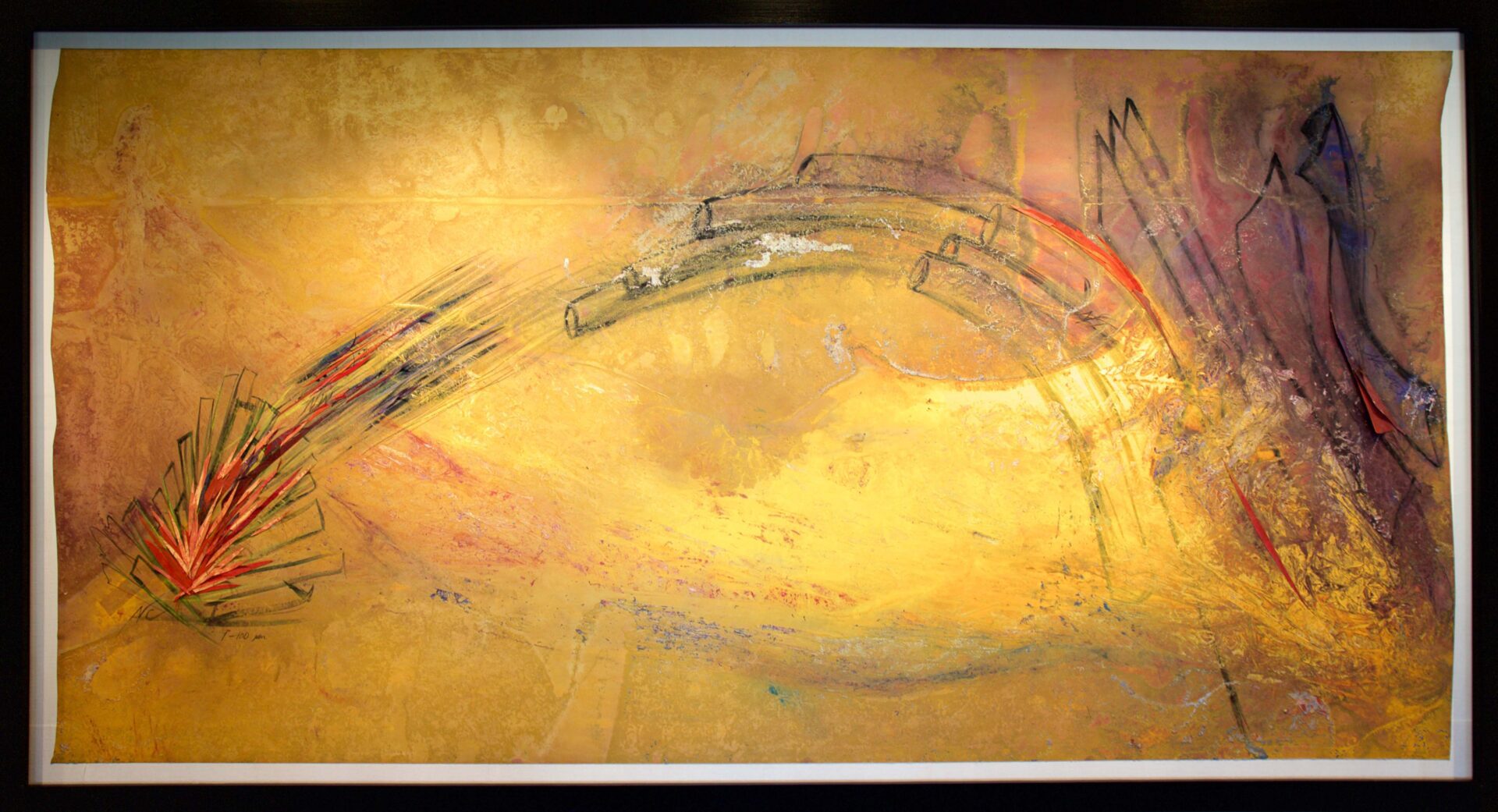 Dimensions: 72 in. x 152 in.
Medium: mixed media on synthetic canvas
Date: 2011-12
With a burst of creative energy, nanomaterials take shape; some as small as a stand of DNA merely 2 nm wide. These tiniest human-made functional structures billionths of a meter (10-9) miraculously grow into nanocrystals, or nanowires, or nanotubes, or nanosheets, or some unique combinations of these four building blocks of NanoWorld. This growth is directed by imaginative nanochemists, materials scientists and engineers working collaboratively to realize their boldest goals: creating nanostructures with functions that work to improve a world of technological innovations, such as solar cells, batteries, energy devices and climate control systems, computers, advanced medicines and mechanisms for maintaining our personal health and managing the wellness of global environments we share everyday.
I'm fascinated by the boundless beauty of the creative process synthesizing and forming nanomaterials that can help create a sustainable future. These nano-related innovations manifest the bold ingenuity of human creativity that naturally unites art-science-technology, sparking countless creative collaborations.
Metaphorming Nature's NanoWorld (1 to 100 nm)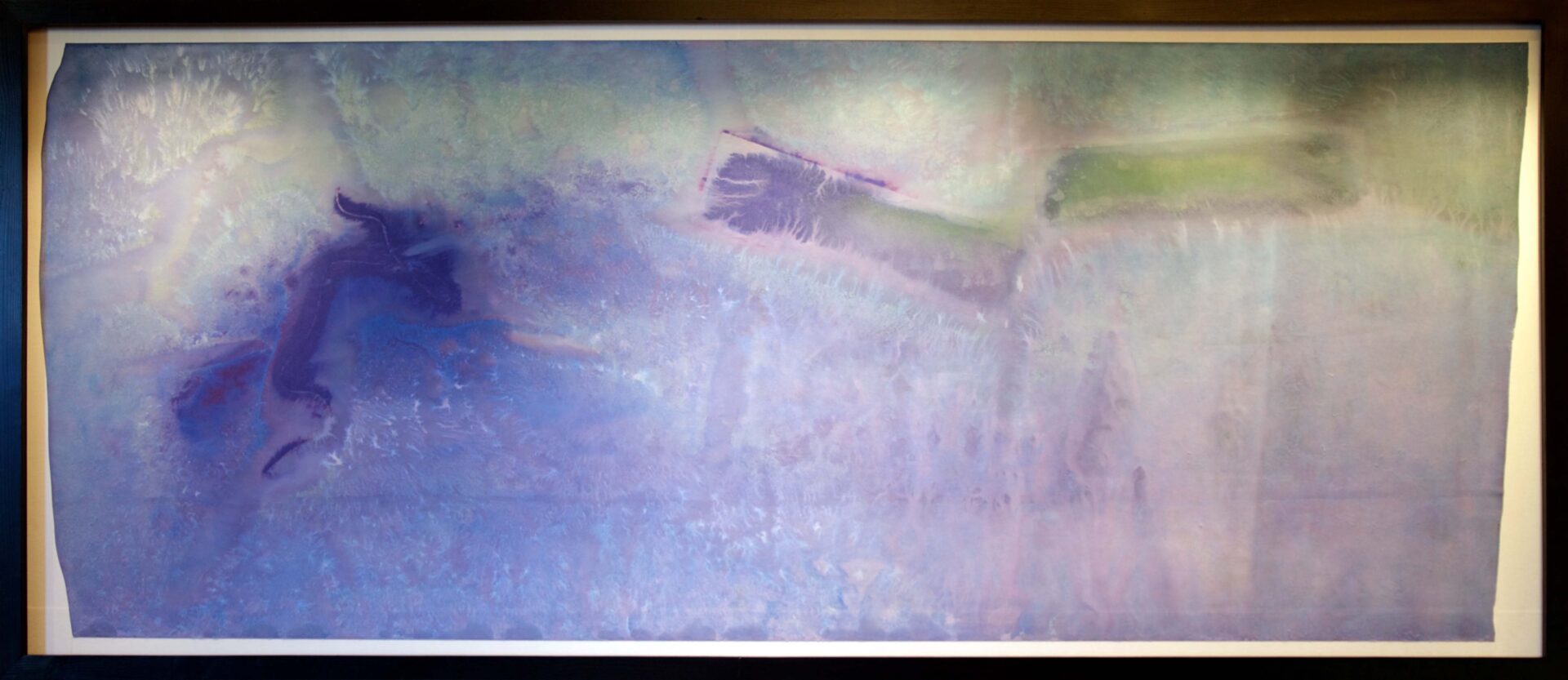 Dimensions: 72 x 142 inches (1,828,800,000 nm x 3,606,800,000 nm)
Medium: Mixed media on synthetic canvas
Date: 2011-13
This metaphorical art envisions what nature makes and what we make of nature on the nanoscale. It explores the creative process of combining six nano-concepts (size, shape, surface, self-assembly, degree of imperfection, and utility (Ozin and Cademartiri, Concepts in Nanochemistry, VCH-Wiley, 2009) to form all-purpose nanomaterials that increase the effectiveness of various technological innovations, including: solar cells, batteries, fuel cells, light emitting diodes, computers, and biomedical devices. Each nano-related innovation manifests the ingenuity of human creativity born from cross-disciplinary collaborations. Each highlights the fact that the human brain, our creative engine of invention and innovation, underlies all advancements in the interconnected fields of Art, Nanoscience and Neuroscience.
Envisioning Minds & Nature Forming Nanomaterials (1 to 100 nm) That Form All Materials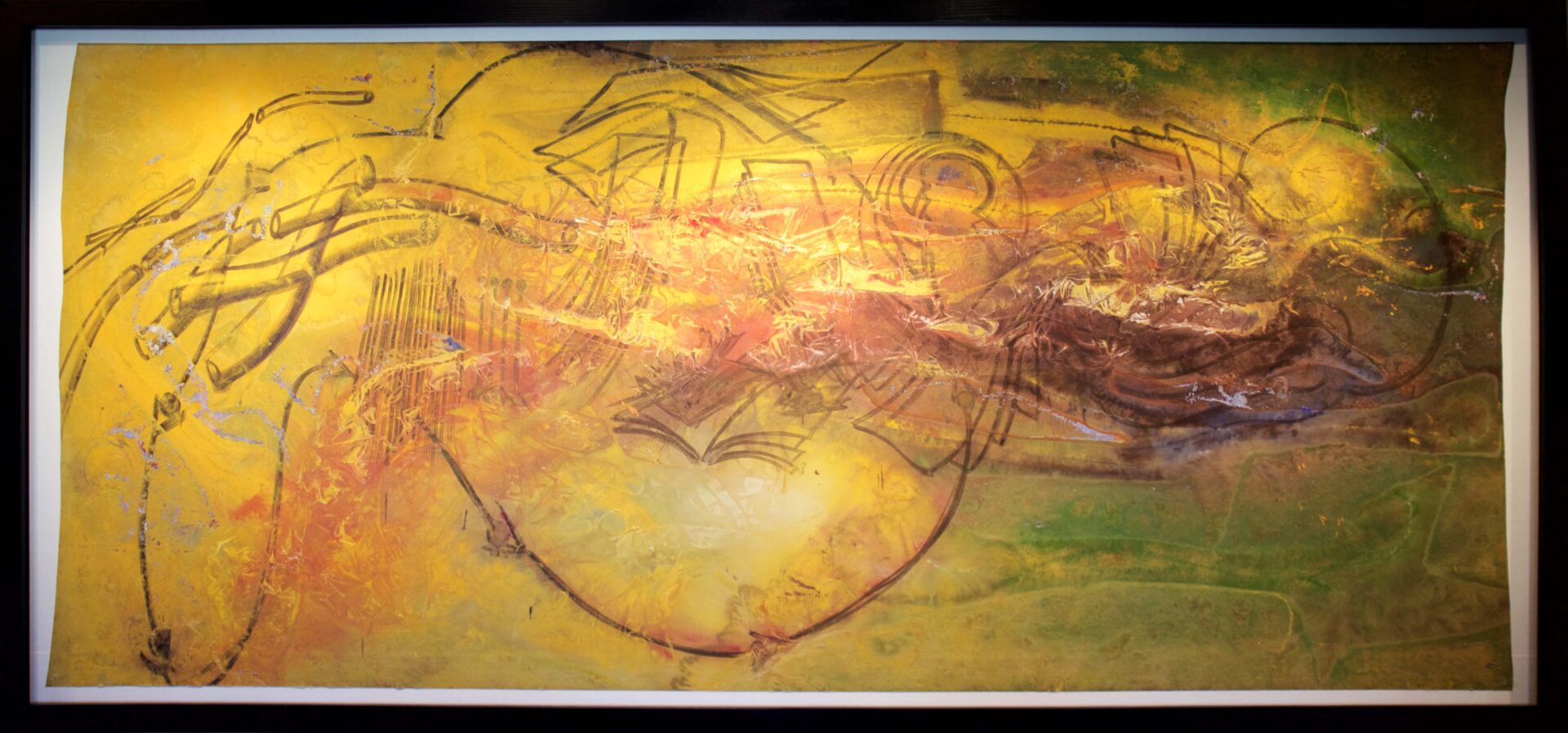 Dimensions: 72 in. x 142 in. (1,828,800,000 nm x 3,606,800,000 nm)
Medium: mixed media on synthetic canvas
Date: 2011-13
This neuro-impressionistic painting delves into the creative process of designing and synthesizing multi-purpose nanocrystals, nanowires, nanosheets, and nanotubes.
The painting highlights what scanning electron microscopes cannot see unaided by imagination. It glimpses the hidden phenomena behind the surfaces of physical reality, offering new aesthetic experiences that can enhance our understanding of nature.
Emerging from an imaginary Book of Nature, which takes centerstage in this brain-based painting, is a big concept that gives form to a new Periodic Table of Nanomaterials and Nanomaterials Genome. With this practical, powerful tool, nanoscientists and engineers could create a potentially infinite number of nanomaterials that could be combined and built to serve a need or solve a specific problem. Many metaphorms were created to visualize the possibilities and limitations of a Nanomaterials Genome that would be useful for many industries and technological innovations (Qian et al., 2015).
Metaphorming The Domino Effect in NanoWorld (1 to 100 nm)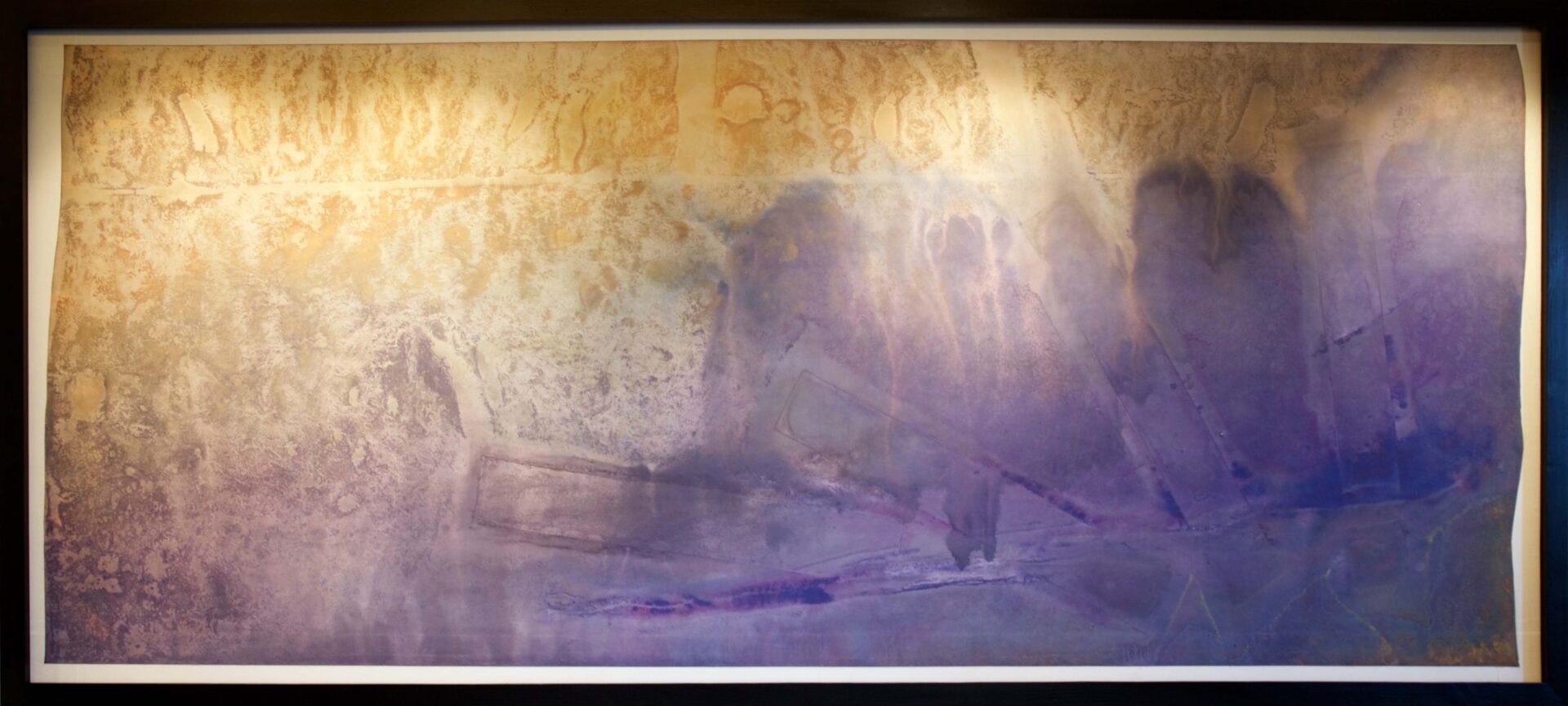 Dimensions: 72 x 152 inches (1,828,800,000 nm x 3,861,000,000 nm)
Medium: mixed media on synthetic canvas
Date: 2011-12
This art explores how nanomaterials are synthesized from the bottom up—from atom to atom clusters to nanomaterials to materials (Cademartiri and Ozin, Concepts in Nanochemistry, VCH-Wiley, 2009)—and fabricated from the top down. It suggests how intermediate forms of matter are shaped by various organizational principles, such as self-assembly, co-assembly, directed [templated] assembly, hierarchical assembly (Cademartiri and Ozin, Concepts in Nanochemistry, VCH-Wiley, 2009). The myriad combinations of these principles provide numerous nano-devices that can be applied to solving our most urgent global problems involving climate change. This art offers aesthetic experiences that can catalyze and cultivate innovative thinking.
There's a deep connection between the scientific process of building the tiniest human-made structures and my artistic process of creating large-scale, continuous monotype prints and paintings, some measuring 12ft. x 200ft. I use a similar process to paint and sculpt the textural surfaces; however, I embrace unpredictability and uncertainty differently than nanochemists, who use centrifugation or evaporation induced self-assembly to organize colloids into nanocrystals, nanowires, nanosheets, and nanotubes.
What I do on the macroscopic scale, nanochemists do on the nanoscale with their "template" system. A template can be "a nanostructure (solid, liquid, or gaseous), which can be used to direct the assembly of a nanostructure. A droplet can be used as a template. A glass slide on which you deposit a film of nanocrystals can be considered a template. A bubble in a liquid can be used as a template" (Cademartiri and Ozin, Concepts in Nanochemistry, VCH-Wiley, 2009; p. 61).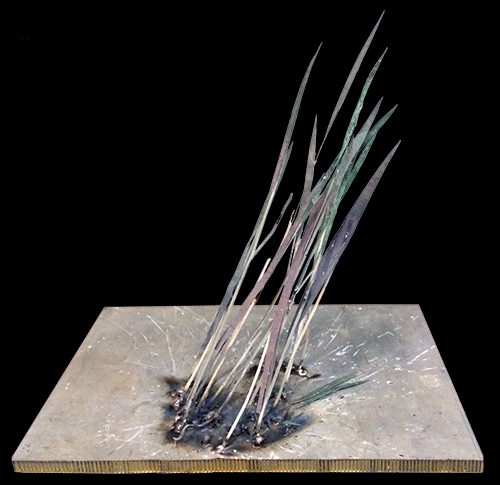 A colony of nanowires sprouts from a cluster of silicon atoms. They quickly evolve into novel nano-devices for enhancing the efficiency and performance of many advanced technologies. One device may be used in solar collectors and another for controlling global climate change (e.g., "Ultra-Black PC@SiNW Hybrid Materials for Broadband Ambient CO2 Reduction," conceived and developed by Ozin et al., 2015). These innovative climate devices can be designed to absorb a broader range of light in the Electromagnetic Spectrum (from infrared to ultraviolet), leveraging insights gained from studying the way plants and other lifeforms process light and heat.
Art enables us to discover new ways and means of expressing our personal truths. Science enables us to seek-and-see truths through empirical and theoretical studies. ArtScience provides countless opportunities for exploring both possibilities.
"…It is time to realize that what science does best is create art, and what art does best is envision new science," writes the UCLA theoretical physicist, Dr. Fred Alan Wolf, author of Taking The Quantum Leap. That insightful reflection resonates with all my art.
Synthesizing Nature's Nanotubes
These Photosculptures embody abstract qualities of physical reality. They integrate artist-made and media-made images, which are permanently fused on carved and welded aluminum plate. The symbolic imagery in these sculptural photographs present subliminal stories about a world of information we experience daily that is drastically shaping the future of life as we know it.
The symbolic imagery represent my creative inquiries into the potentially infinite meanings and implications of nature's connectivity. They suggest how all things may be interconnected by nature: from infinitesimally tiny strands of subatomic particles to clusters of stellar matter to human neural tissue to the multilayered concepts of cities, cultures and civilizations born from our collective brains.
One of the great joys in creating these photosculptures is experiencing those thrilling, unpredictable "aesthetic accidents" that underscore most original discoveries. Albert Szent-Györgyi, the 1937 Nobel Prize-winner in Physiology or Medicine, once noted: "A discovery is said to be an accident meeting a prepared mind." My mind is an R&D Lab always open to wonder!
Before I ever started thinking about nanoscience, I made these sculptures which, later, prepared my mind to discover and learn how nanomaterials and nano-devices can be applied to "carbon-neutral CO2-to-Fuel technology" (Ozin et al., 2015) that serve our global energy needs.
Background on Collaboration
By happenstance in November 2011, Todd Siler met Geoffrey Ozin for the first time at the World Cultural Council's Awards Ceremony at the University of Tartu in Estonia. Dr. Ozin received the Albert Einstein World Award for Science at the same time Dr. Siler received the 2011 Leonardo da Vinci World Award of Arts. They quickly discovered a union akin to "two prongs of a tuning fork in resonance as 'ScienceArt and ArtScience'." This meeting inspired them to embark on an adventure exploring the fusion of their expertise in Art 'Metaphorming' and Science 'Nanochemistry, Synthesis in Diminishing Dimensions'
Energy is color and color is energy. This natural resonance provides a dynamic thread that fuses the beauty of Todd Siler's art with the aesthetics of Geoffrey Ozin's science to create hot, bold and thought-provoking visualizations of the nano world. These ArtNano works aim to catalyze and cultivate curiosity, imagination, wonder and innovation!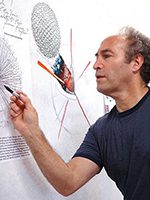 Todd Siler is an internationally recognized visual artist, author, inventor and consultant, who is the founder of Psi-Phi Communications, LLC, and The ArtScience® Program for Realizing Human Potential (aka, Think Like a Genius® Program). He received a Ph.D. in Interdisciplinary Studies in Psychology and Art from the Massachusetts Institute of Technology in 1986, becoming the first visual artist to receive this doctoral degree at M.I.T. His published works include Breaking the Mind Barrier (Simon & Schuster, 1990) and Think Like A Genius (Bantam Books, 1996); both books have been translated into many foreign languages. Breaking the Mind Barrier was nominated for the 1994 University of Louisville Grawemeyer Award in Education for "a work of outstanding educational achievement with potential for worldwide impact." Todd Siler has been exhibiting his artworks internationally in major museums and galleries for the past three decades, and is represented by the Ronald Feldman Fine Arts in New York City (www.feldmangallery.com) since 1980. His artworks are in numerous private and public collections worldwide. The World Cultural Council, who awarded him the 2011 Leonardo DaVinci World Award of Arts, recognized Siler's lifelong practice of applying the "ArtScience" process to envision viable solutions to real-world global challenges. He has a longstanding interest in exploring the potential of alternative nuclear fusion energy systems that can help create a sustainable future.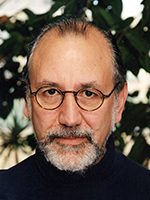 Widely regarded as a founding father of the field of Nanochemistry, Dr. Geoffrey Ozin was nominated for the 2014 Kavli Nanoscience Prize for the originality and significance of his visionary work. He continues to catalyze collaborations leading to innovations in his field that can benefit humankind in outstanding ways, helping us meet our global environmental and health challenges, among other urgent concerns. As the Chairman of University of Toronto relates: "In the early seventies, working in his laboratory in the Chemistry Department at the University of Toronto, Geoff pioneered an 'atom-by-atom' chemical approach to the synthesis of nanomaterials…Throughout Geoff's long career he has made seminal fundamental and important applied research contributions, and provided innovative educational tools that served to enhance and enrich the science, technology and teaching of nanochemistry, and he is still going strong…Geoff's work over the past four decades offers a wealth of contributions to the field of nanoscience through nanochemistry. They encompass creative ways of synthesizing a remarkably wide range of novel nanomaterials created combinatorially in a practical Peridoic Table of Nanomaterials he's currently designing; imaginative ways of determining the structures of nanomaterials and elucidating their unique properties; myriad ideas on their functionality, providing thereby an abundance of opportunities for developing their utility in diverse nanotechnologies."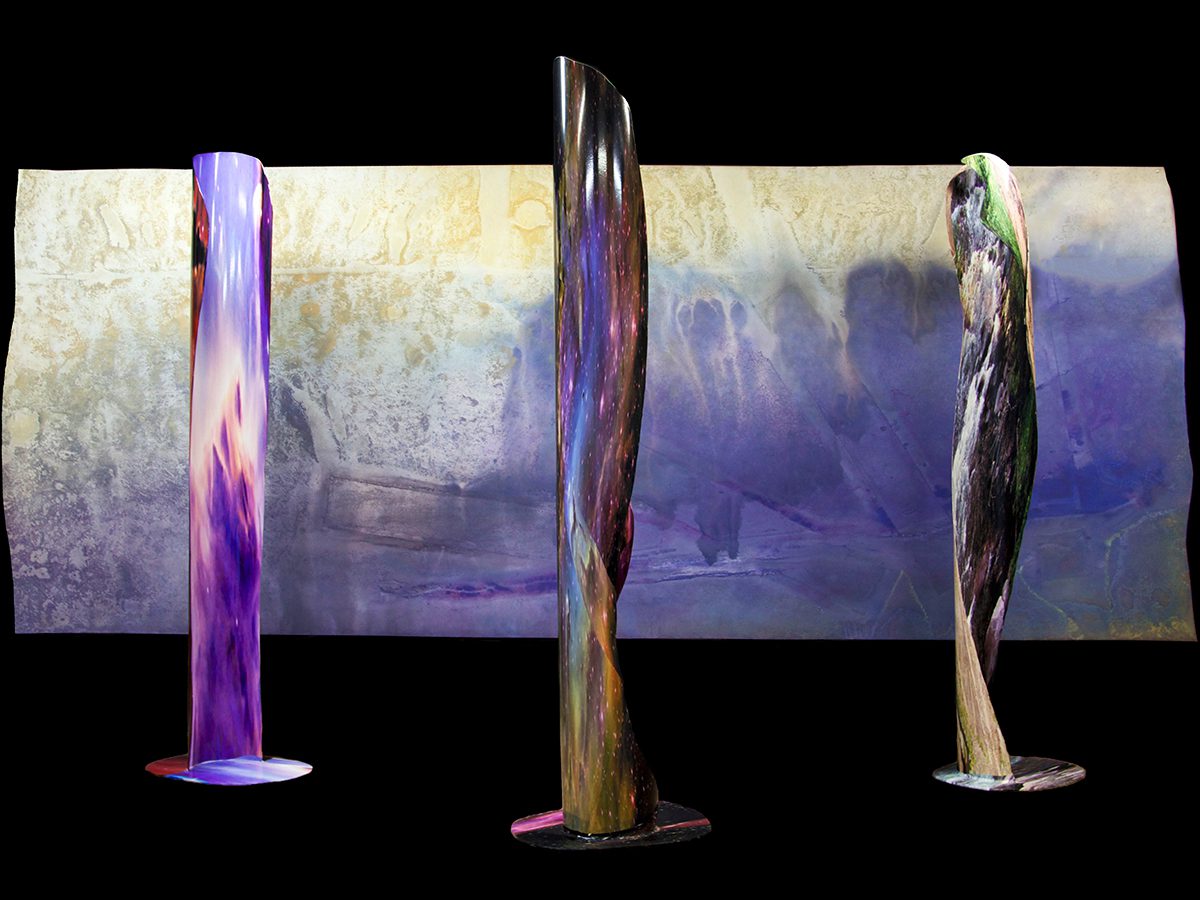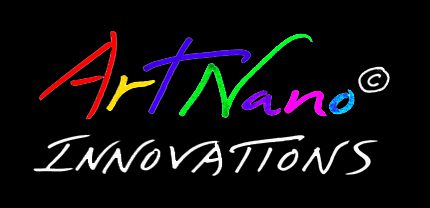 Note: The © symbol in ArtNano© stands not only for "copyright," but also for "creativity," "communication," and "collaboration." Moreover, it symbolizes the phenomenal versatility and transformations of "carbon" into the myriad manifestations, forms and applications of this element to the whole of life.
ArtScience® is a registered trademark of Todd Siler, Ph.D., coined in 1975. Used with permission. All rights reserved.